Meet Dr. Andrea Shavitz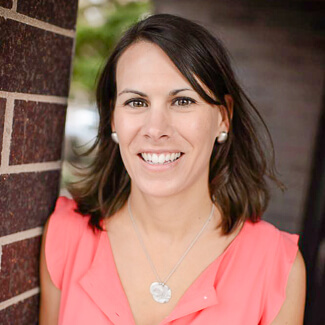 For over a decade, Dr. Andrea has provided the Lakeview community with state-of-the-art chiropractic care, helping them to optimize their health potential and pursue an active lifestyle. At Total Balance Chiropractic we offer our patients a multifaceted approach to holistic well-being, with an emphasis on pediatric, prenatal and sports chiropractic.
A Desire for Work Fulfillment
"As an undergrad with a major in biology, I completed a summer internship working in a lab, spending days working in isolation. I quickly realized I was a people person and lab work was not going to be a part of my destiny. After enduring intense daily headaches, I began to see a chiropractor. My results were so profound that I became seriously interested in chiropractic as a profession."
After shadowing several area chiropractors, Dr. Andrea had the opportunity to hear the President of Palmer College speak at the pre-chiropractic club on her college campus. He ended his speech with these riveting words: "Chiropractic is a profession where people want to go to work every day. Even after so-called retirement, they still practice."
A Broad and Extensive Education
Dr. Andrea earned her Doctor of Chiropractic degree from Palmer College of Chiropractic in Davenport, Iowa. As a student, she had the opportunity to participate in their Clinic Abroad Program in Brazil, where she and other classmates treated low-income people in many cities.
She clearly remembers three treatments she delivered to a young Brazilian man who was suffering from numbness along the inner thighs up to the groin, accompanied by bowel and bladder problems. While standing in line to get on the bus to leave, she saw this same man searching through the crowd for her. "He ran up to me with so much joy in his face; all his symptoms had disappeared! That I was able to help him as a student completely cemented my purpose."
Clinical Excellence
For Dr. Andrea, the most fulfilling and motivating aspect of her practice is the relationships she forms with those she serves. To help as many people as she can, she's pursued extensive postgraduate study, including
Active Release Techniques® (ART®) certification
Certified Chiropractic Extremity Practitioner (CCEP) certification
Webster Technique certification
On a Personal Note
An active lifestyle is important to Dr. Andrea. She loves to hike, cook and enjoy nature with her husband and two daughters.
Dr. Andrea holds a special place in her heart for the treatment of babies, children and moms-to-be. She also specializes in cutting-edge chiropractic care for athletes. Our office features on-site X-rays, and we're open late.
Contact us today for an appointment at our family-friendly clinic!

Dr. Andrea Shavitz | (773) 348-6908