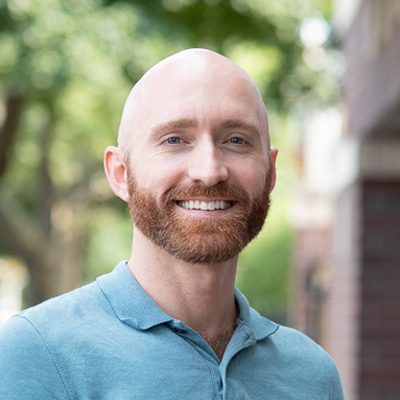 Chiropractor
Luke Gellis D.C.
Dr. Luke delivers high-quality chiropractic care to area families wishing to eliminate their pain and optimize their wellness potential. At Total Balance Chiropractic we welcome everyone from weekend warriors and elite athletes to moms-to-be and children. We emphasize a multidisciplinary approach to wellness, including the best in pediatric chiropractic and the renowned Active Release Techniques® (ART®).
A Passion For Helping Others
"I always knew I wanted a career in the field of health because I love helping people. My cousin is a chiropractor, and while trying to decide on a holistic career path, I shadowed her at her clinic. All it took was one day for me to make up my mind. By observing the warm personal connections that my cousin had with her patients, I knew chiropractic was the profession for me."
Education and Experience
Dr. Luke received his Doctor of Chiropractic degree from Palmer College of Chiropractic in Davenport, Iowa.
While still a student in clinic, he encountered a patient who had severe neck and upper back pain. He couldn't carry out even simple acts of daily living. "This man had already seen three other chiropractors, and nothing was helping.
As a student, I felt a little intimidated, but I gave it my all. I began to adjust him and added in specific exercises (The McKenzie Method) for him to practice at home. By the third visit, the man came in for his appointment happy and excited; the pain was going away! This experience made me realize that chiropractic has so much to offer because of the diversity of cutting-edge adjustment styles."
A Thirst For Knowledge
Following his graduation from Palmer College, Dr. Luke jumped in with both feet and spent a month at a solo chiropractic clinic in Peru. "I was inundated with patients for the entire time I was there. It was fascinating and refreshing to work with a culture that takes a completely holistic approach to health care. I felt very grateful for the experience."
Dr. Luke's additional postgraduate coursework includes
Certification in Active Release Techniques (ART)
Certification in Activator Methods®
Certification in dry needling technology
Webster Technique certification
Outside The Office
Traveling and exploring areas around Lakeview are favorite pastimes of Dr. Luke. He also enjoys hiking, yoga, exercising and attending music festivals.
We encourage you to take the time and effort to invest in your well-being. Our chiropractic care center features on-site X-rays and accepts insurance. Contact us today for a convenient appointment!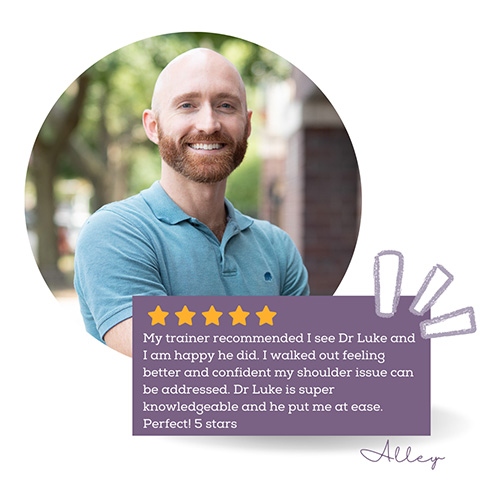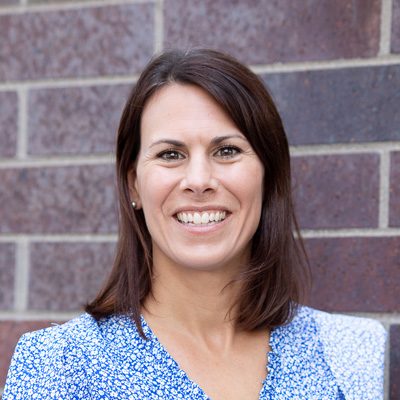 Chiropractor
Andrea Shavitz D.C.
For over a decade, Dr. Andrea has provided the Lakeview community with state-of-the-art chiropractic care, helping them to optimize their health potential and pursue an active lifestyle. At Total Balance Chiropractic we offer our patients a multifaceted approach to holistic well-being, with an emphasis on pediatric, prenatal and sports chiropractic.
A Desire For Work Fulfillment
"As an undergrad with a major in biology, I completed a summer internship working in a lab, spending days working in isolation. I quickly realized I was a people person and lab work was not going to be a part of my destiny. After enduring intense daily headaches, I began to see a chiropractor. My results were so profound that I became seriously interested in chiropractic as a profession."
After shadowing several area chiropractors, Dr. Andrea had the opportunity to hear the President of Palmer College speak at the pre-chiropractic club on her college campus. He ended his speech with these riveting words: "Chiropractic is a profession where people want to go to work every day. Even after so-called retirement, they still practice."
A Broad And Extensive Education
Dr. Andrea earned her Doctor of Chiropractic degree from Palmer College of Chiropractic in Davenport, Iowa. As a student, she had the opportunity to participate in their Clinic Abroad Program in Brazil, where she and other classmates treated low-income people in many cities.
She clearly remembers three treatments she delivered to a young Brazilian man who was suffering from numbness along the inner thighs up to the groin, accompanied by bowel and bladder problems. While standing in line to get on the bus to leave, she saw this same man searching through the crowd for her. "He ran up to me with so much joy in his face; all his symptoms had disappeared! That I was able to help him as a student completely cemented my purpose."
Clinical Excellence
For Dr. Andrea, the most fulfilling and motivating aspect of her practice is the relationships she forms with those she serves. To help as many people as she can, she's pursued extensive postgraduate study, including
Active Release Techniques® (ART®) certification
Certified Chiropractic Extremity Practitioner (CCEP) certification
Webster Technique certification
Dry Needling Certification
On A Personal Note
An active lifestyle is important to Dr. Andrea. She loves to hike, cook and enjoy nature with her husband and two daughters.
Dr. Andrea holds a special place in her heart for the treatment of babies, children and moms-to-be. She also specializes in cutting-edge chiropractic care for athletes. Our office features on-site X-rays, and we're open late.
Contact us today for an appointment at our family-friendly clinic!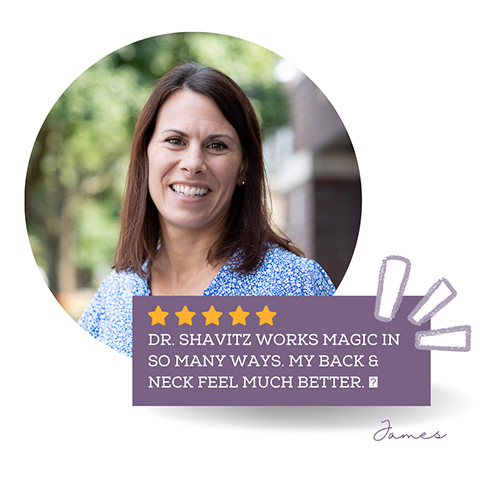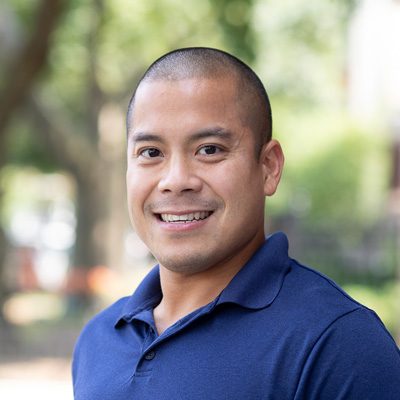 Chiropractor
John Nguyen D.C.
Originally from California, Dr. John and his family moved to the Midwest when he was nine. In Indiana, he grew up doing academic clubs as well as playing organized sports like football, throwing shot-put and discus for track and field. Dr. John later attended Purdue University, where he did dual course work consisting of Pre-Med and a Bachelor's in History.
After graduating from Purdue University, he went to New York Chiropractic College in Seneca Falls and clinicals in Levittown where he saw patients ranging from marathon runners to MMA fighters. He graduated from NYCC in 2016 and decided to move back to the Midwest to start his professional career.
Improving Quality Of Life
Dr. John has had extensive experience in treating different kinds of people ranging from high school to professional athletes, to families with their children to their grandparents and those who suffered traumatic accidents. He has also treated patients of all ages, from 5 days old to 110 years old. He truly believes that movement is key to subsiding pain and living a healthy overall life.
He has extensive knowledge and experience in different chiropractic adjusting techniques, soft tissue work and rehabilitative exercise knowledge to assist his patients not only in their search for pain relief but an overall improvement in their quality of life.
Out Side Of The Office
In his spare time, Dr. John likes to live an active lifestyle that includes weightlifting, running at the gym or lake trail, catching a yoga class and jumping in for a WOD at his friend's CrossFit gym. He also loves spending time with his family and friends with his ever-growing love/hate relationship with golf, fly fishing, hunting, spending time in the wilderness hiking and camping, cooking/baking and his obsession with sports year-round.
Lastly, he would say that his second passion in life would be traveling either with family/friends or just solo trips domestically or internationally. He loves delving into the culture of the city or country by conversing with the locals, going to events and trying all sorts of cuisine without hesitation.
Contact us today and let us help you start on the path to a healthier life!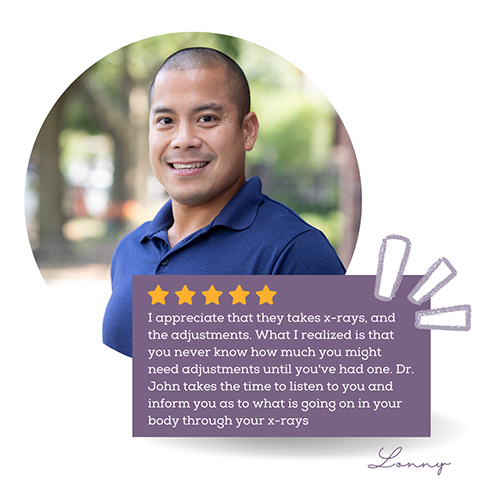 Front Desk Manager
Katie Ujimori
Katie is our Front Desk Manager; you have most likely seen her friendly face at the front desk when checking in for your appointments. Katie is experienced with helping patients schedule, answering billing questions, and keeping our office running smoothly.
After managing a coffee shop in Evanston for almost a decade, Katie wanted a workplace with a strong sense of community. The warmth of the practice, the doctors, and our patients made Total Balance Chiropractic feel like a home. Katie wants everyone to feel welcome and safe in our office.
"I hope everyone leaves feeling better, physically or mentally. Community is a large part of why I love my job; we have the best patients in the world."
In her spare time, Katie enjoys staying active by running, and she bikes to work every day (yes, even in the winter). She adores coffee, baking, reading, and camping.
Monday
8:00am - 12:00pm
1:00pm - 7:00pm
---
Tuesday
8:00am - 1:00pm
4:00pm - 6:30pm
---
Wednesday
8:00am - 7:00pm
---
Thursday
8:00am - 1:00pm
2:30pm - 6:00pm
---
Friday
8:00am - 1:00pm
---
Saturday
8:00am - 1:00pm
---
Sunday
Closed
---
Accepting Same Day Appointments